ABOUT US
MD Start in brief: this is how we work, in a nutshell. These scrolling slides represent the key steps in our process for creating new medtech start-ups and innovative products.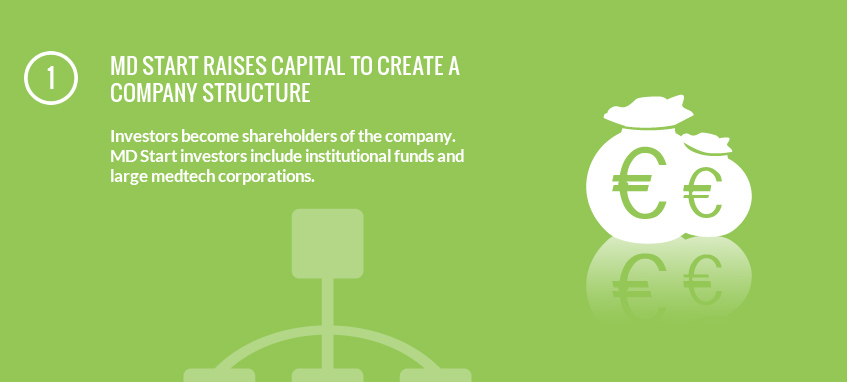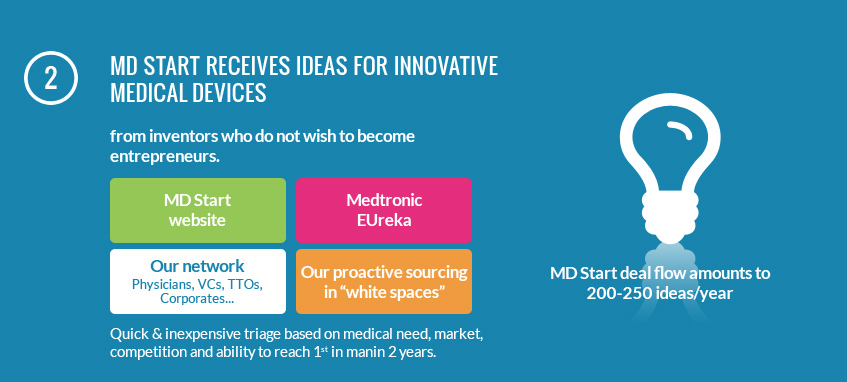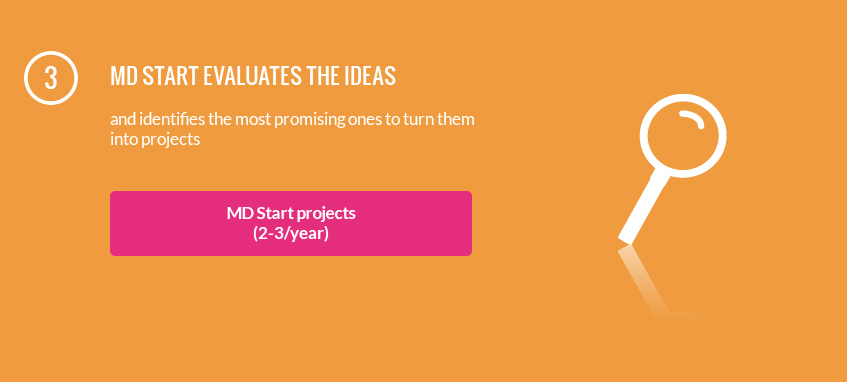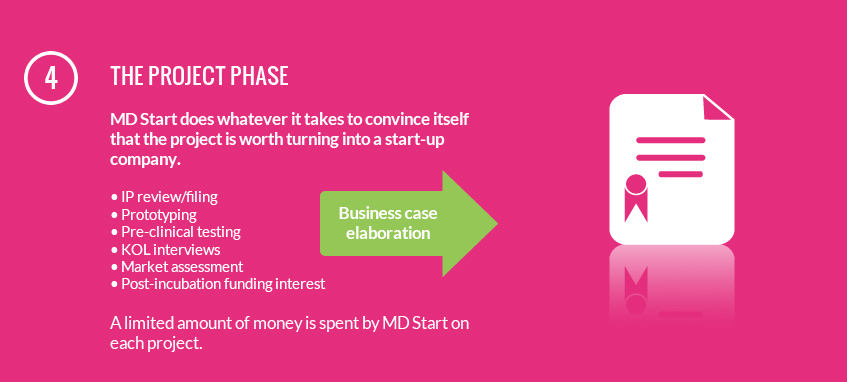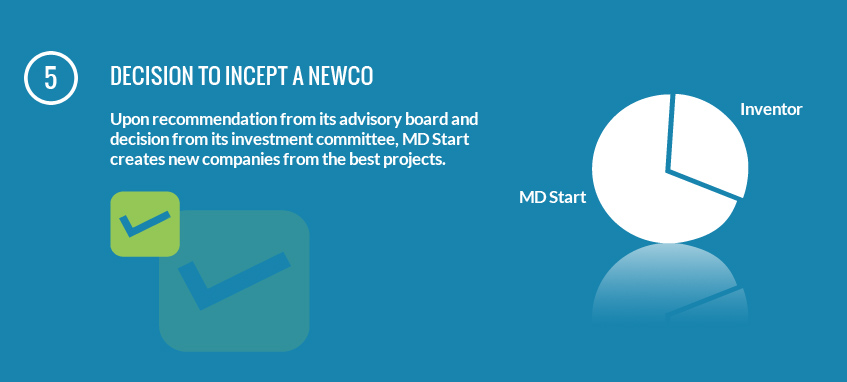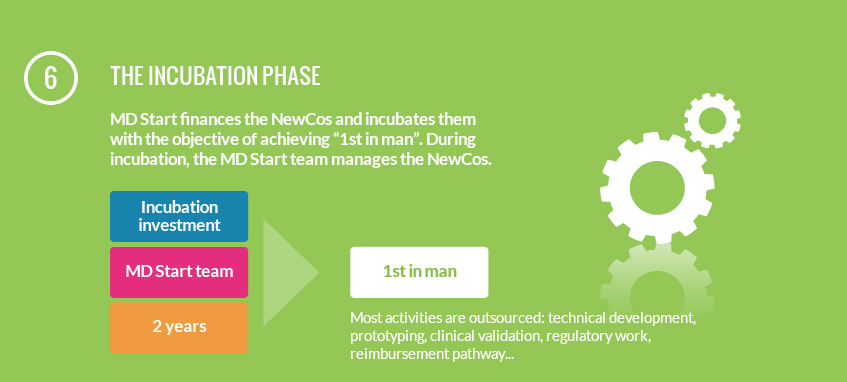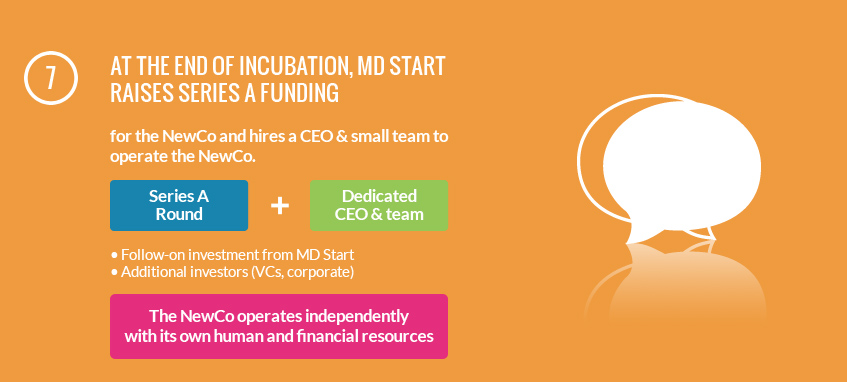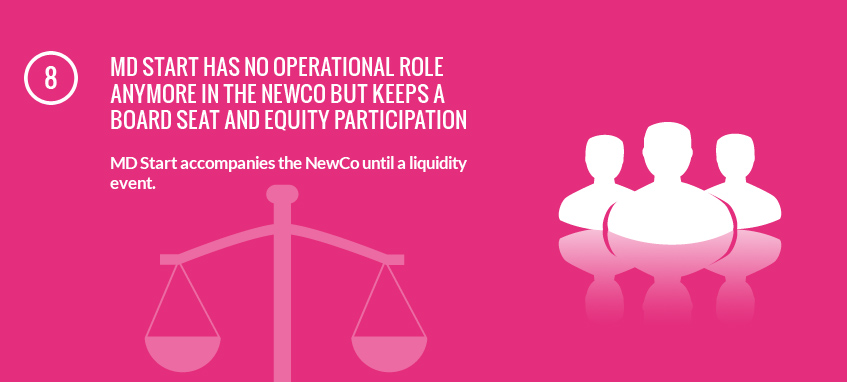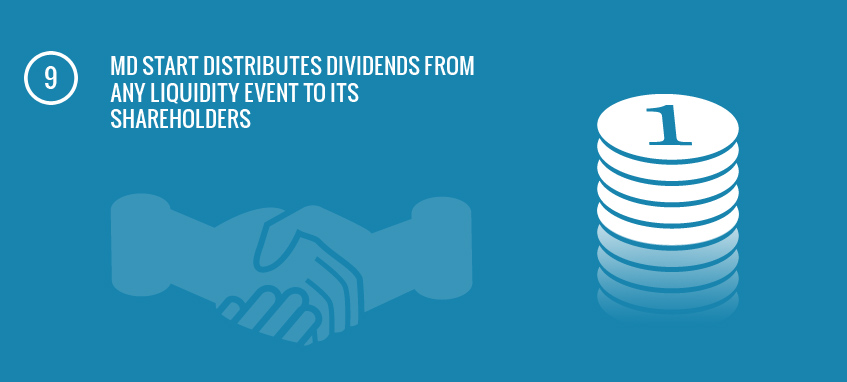 When MD Start was created in 2010, it represented the first collaboration between Venture Capital, Institutional Investors and Industry to 'accelerate' the development of innovative medtech ideas in Europe. Medtronic and Sorin Group, both world leaders in medical device technology, as well as Sofinnova Partners, one of the leading life science venture capital firms, joined forces to create a vehicle whose mission is to build great companies from the ground around the best and undeveloped medtech concepts.
MD Start's capabilities
MD Start is different from most incubators
Our mission is to incubate medical device innovation to the stage where it will be of interest to later stage investors (corporates and venture capital firms). Our shareholders are some of the most successful device companies and part-takers in innovative medical technologies development and funding in the world. Our team has extensive experience in developing and commercialising medical technologies so that it can operate the projects and new companies itself.
MD Start aims at building world-class medical device technology companies
Since MD Start was created in 2010, we have evaluated over 1400 inventions, worked on 36 projects and created 7 new companies.
We look for ideas that others miss
MD Start is looking for ideas that are too early for large corporate or venture investors. Based in Paris, France, MD Start evaluates ideas from all over Europe and beyond, benefiting from a unique environment, where the vast majority of medtech inventions originate from, while very few entrepreneurs turn these medical device innovations into companies. We look for ideas that others miss and truly add value. We prove the technology by demonstrating the validity of the concept in a fast and capital efficient manner.
We have a strong process for value generation
Many years of medical device start-up experience has yielded a philosophy that focuses on proper due diligence and engineering rigor to achieve results as quickly and efficiently as possible. MD Start's capabilities cover the complete range of competencies required to successfully transform an idea into a revolutionary medical technology and venture: the MD Start team has strong expertise in company and project management, product development, IP coverage, regulatory certification, and clinical validation.